Veterans Day
Sunday, November 11th, 2018
Originally called Armistice Day, commemorating the signing of the agreement that ended World War I at 11:00 A.M., November 11, 1918, this federal holiday was changed to Veterans Day in 1954. At that time, it became a day to honor all the men and women who have served in the armed forces of the United States.
As veterans, we want to thank all our fellow veterans for your service to this great country of ours. What a privilege it was for us to have served this land, and what a privilege it is for those who serve her still – each of you and your families are continually in our thoughts and our prayers. Acertara is a veteran-owned business and we strive to hold to the ideals that guided us during our military service, and now in service to our valued customers. To our Marine Corps brothers who are also celebrating the Marine Corps 242nd birthday on November 10th, we say: Semper Fi!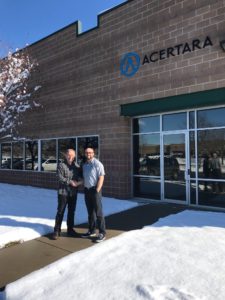 Wayne Moore – Sergeant United States Marine Corps, Vietnam Era
Levi Moore – Sergeant United States Marine Corps, Operation Enduring Freedom, Operation Iraqi Freedom
About Acertara:
Acertara Acoustic Laboratories, located in Longmont, Colorado is an independent ISO/IEC 17025:2005 accredited advanced acoustic measurement, testing, and calibration facility providing diagnostic and therapeutic acoustic power testing and measurement services to ultrasound OEMs, researchers, and regulatory bodies around the world. Acertara also manufactures and sells a complete line of acoustic power testing products; including its industry standard Acoustic Power Lab Suite and AMS software. Acertara also manufactures and sells probe testing devices; Aureon™, AmpSafe™ and ATLAS™. Acertara offers contract-based advanced ultrasound research and product development and engineering design services. Acertara is also ISO13485:2016 certified for ultrasound probe repair. Additional information for Acertara is available on its website at www.acertaralabs.com, or contact inquiries@acertaralabs.com. Acertara Acoustic Laboratories, LLC is a Veteran owned and operated business.
Acertara Acoustic Laboratories
1900 S. Sunset St., Unit F
Longmont, CO 80501
303.834.8413