Ultra-Compact Ultrasound and the Rise of PoCUS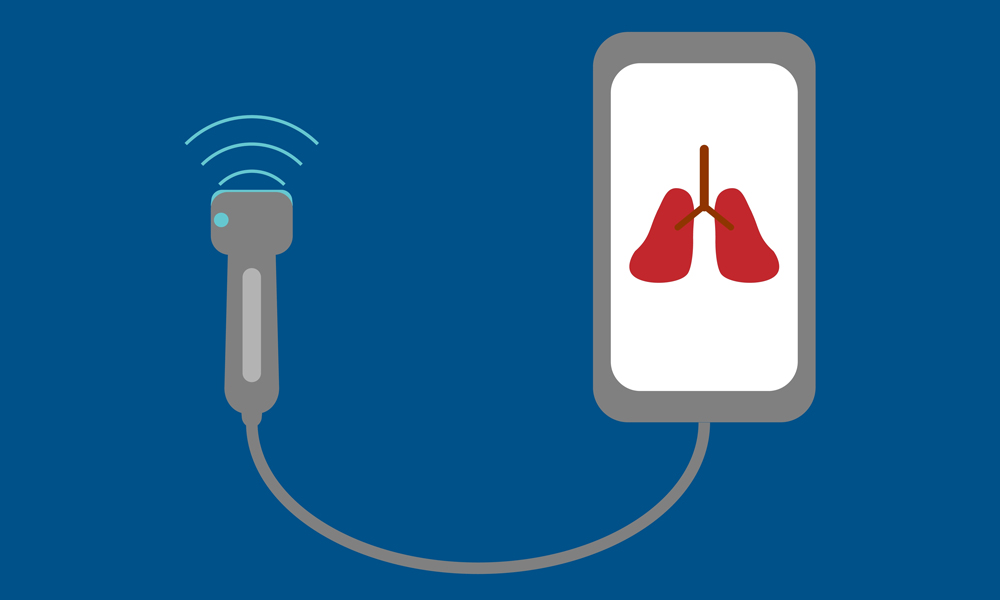 The evolution of technology is almost always synonymous with a shrinking device footprint. Monolithic computers from the 1960s shrunk down to the personal laptops we use today, and it's the same with televisions, mobile phones, and nearly every other electronic device. Medical devices are no exception, and there's no better example of powerful tech in a small package than point-of-care ultrasound (PoCUS).
Today's ultra-compact PoCUS devices are the pinnacle of innovation for diagnostic imaging. Not only do they offer some of the best ultrasound imaging standards available today, but they also give diagnosticians the mobility to collect images whenever and wherever they're needed, without wheeling in an instrument cart or transporting a patient.
With the ease and convenience PoCUS offers, demand is booming — and driving even more innovation.
Smaller, more powerful ultrasound innovations
With a recent boom in innovation, ultrasound tech is getting smaller. The past five years have been a perfect storm of development and competition between legacy medical technology companies, including GE, Siemens, and Philips, and exciting startups, such as Butterfly Network, Exo, and EchoNous. In pursuit of PoCUS market share, companies big and small are setting a high bar for handheld imaging technology.
Today, ultra-compact, portable ultrasound devices are revolutionizing medical diagnostics by bringing imaging to the forefront. Healthcare facilities are trading in large, bulky, complicated ultrasound machines for small-but-mighty imaging equipment that's both highly portable and easy to use.
Convenience is not the only reason for the rising popularity of PoCUS. Imaging efficacy and diagnostic efficiency are also critical, and PoCUS devices deliver superior imaging quality for real-time medical guidance. With this high level of insight, delivered at speed, clinicians can make better real-time decisions to improve patient care.
The rapid rise of PoCUS technology
While handheld ultrasound devices have been around for years, the technology for superior-quality images just wasn't there. But the pandemic and its lingering effects sparked more interest in the development and use of handheld ultrasound devices. Clinicians found these devices useful for simplifying infection control procedures, and they saved valuable space in emergency rooms already crowded with critical care equipment.
Several medical imaging manufacturers moved to meet evolving ultrasound demand with their quick development of lower-cost, ultra-compact devices. Innovations focused on ultrasound software as well as hardware. For example, many PoCUS devices operate using a user-friendly, app-based interface, which reduces the average time to both patient care and technology proficiency for new clinicians.
On the hardware side, capacitive micromachined ultrasound transducers (CMUT) technology makes it possible to produce incredibly clear images through a change in capacitance — a step up from the limitations of traditional piezoelectricity. CMUT probes are also more affordable to produce, which lowers the cost of acquisition for new form factors as demand for PoCUS increases.
It was this perfect storm of better technology, lower cost, and rising demand that put PoCUS on the map.
A diagnostic future powered by PoCUS
PoCUS is an increasingly popular tool in a range of medical specialties. With its portability and real-time imaging capabilities, PoCUS makes it easier than ever for medical professionals to get immediate insight to guide clinical decision-making.
Today, PoCUS makes its biggest impact in emergency and trauma care. First-responders can deploy PoCUS technology in the field to determine the best treatment facility for patients. Accessibility and speed make PoCUS incredibly useful for rapid diagnosis — and fewer consults — in emergency departments. In trauma settings, PoCUS assists with focused assessment with sonography in trauma (FAST) exams that quickly pinpoint a patient's trauma pathologies.
PoCUS also lends itself to several other imaging innovations. For example, clinicians are already pairing PoCUS with imaging AI to improve scan clarity and diagnostic accuracy. The ability of PoCUS to work with emerging technologies and adapt to evolving concepts also contribute to its value in the field.
PoCUS technology continues to evolve
PoCUS is versatile, flexible, and accessible, and innovation has only scratched the surface of its full potential, but as it's still fairly new and continuously developing, its limitations and protocols are still being discerned and understood. Still, it's an exciting time for the medical imaging community — and for patients relying on emerging diagnostic capability.
Explore the rise of PoCUS and other revolutionary ultrasound technology at
acertaralabs.com
.