Revolutions in Ultrasound Technology: Mobile Ultrasound Tech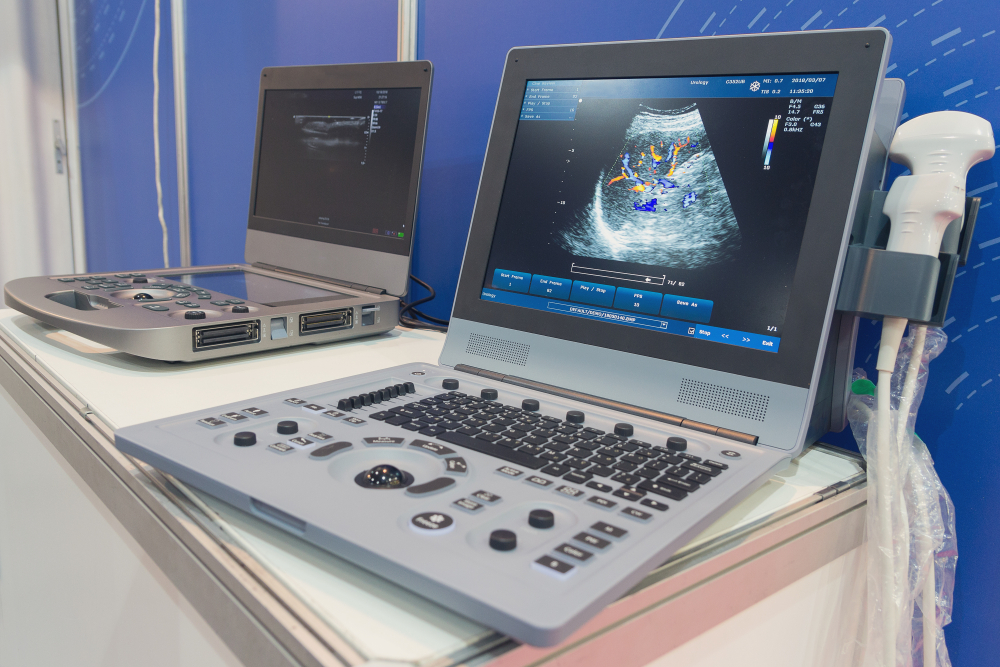 Ultrasound technology is instrumental in medical diagnostics. From cardiology to musculoskeletal care, ultrasound enables targeted medical treatment, and clinicians are looking for more ways to incorporate ultrasound diagnostics into routine point-of-care testing. Increasing demand is driving a rise in mobile ultrasound tech — and making advanced diagnostics accessible to more patients.
The rapid rise of mobile ultrasound tech
In 2020, the market for mobile ultrasound equipment reached an estimated $1.7 billion. Projections put that value at $2.5 billion by 2026, indicating a compound annual growth rate (CAGR) of 6.3%, almost a billion dollars growth in just a few years' time. It's a testament to growing demand for portable, accessible devices and the increasing number of applications available with mobile ultrasound tech.
It's important to realize that demand transcends domestic borders. Around the world, healthcare professionals are turning to mobile ultrasound tech. In addition to quicker insights and more refined diagnostics, they seek to humanize the patient experience at the point of care. Mobile ultrasound is allowing them to do all that — and more.
Mobile testing covers more ground
Within hospitals and healthcare facilities, it's easy to think of treatment in silos. Hematology is up on the fourth floor. Obstetrics down on the second. Pulmonology might be tucked away in Cardiology. Mobile ultrasound technology already connects diagnostic data within facilities to provide critical updates for patient care.
Ultrasound tech is increasingly applied across a range of specialties, including musculoskeletal, critical care, and emergency medicine. At the same time, it's facilitating an increase in minimally invasive procedures. The better ultrasound tech becomes, the more targeted treatment can be. Case in point, several point-of-care ultrasound providers are already demonstrating the potential of ultrasound tech in a first-line diagnostic approach. Examples include:
Philips Lumify. Lumify's state-of-the-art pulsed wave Doppler allows clinicians to quantify blood flow in cardiological, vascular, abdominal, urological, obstetric, and gynecological applications. It is designed for point-of-care use in any setting.
Clarius HD3. Wireless and compatible with both iOS and Android devices, Clarius probes are lightweight, intuitive, and powered by artificial intelligence to deliver critical diagnostic insight quickly across a broad range of applications.
Fujifilm Sonosite LX. The Sonosite LX is designed specifically for critical care diagnostics. It features tactile controls and a powerful T8-3 transesophageal transducer to provide incredibly detailed clinical imaging.
These distinguished innovations in portable ultrasound are only the beginning. As diagnostic imaging influences the course of patient care, ongoing refinements continue to bring the technology closer to patients where they are — whether they're in an inpatient facility, at a local clinic, or even in their homes.

Demand for mobile ultrasound
Mobile ultrasound is one area of medtech within the wider movement to expand access to healthcare. An aging population is straining healthcare infrastructure, which is helping drive innovation and technology integration to deliver simple, accessible care.
Connectivity is another driver for point-of-care ultrasound innovation. Synchronization with iOS and Android are quickly becoming hallmarks of new ultrasound tech, and this functionality further expands care access while reducing costs — all as ultrasound tech continues to get smaller, more precise, and more powerful. Access to advanced diagnostics creates a higher standard of patient care for improved outcomes and a better overall patient experience.
Support for evolving tech
As ultrasound applications continue to evolve, healthcare providers need a plan for maintaining and repairing this complex technology. The ability to assess, service, and repair point-of-care testing equipment is critical for preserving diagnostic integrity, improving return on investment, and raising the standard for patient care.
Learn more about revolutionary ultrasound technology at acertaralabs.com.