Ultrasound Technology Nirvana
The 2017 IEEE Ultrasonics Symposium
G. Wayne Moore, B.Sc., MBA, FASE
9/12/17
I am writing a short overview of one of my favorite meetings to attend – the IEEE Ultrasonics Symposium. If you are an ultrasound technology geek this is the place to be. This year's meeting was in Washington D.C. and was very well attended.
Acertara showed its newest product – a small table top sized API tank with up to 8 movement variations, designed for higher frequency probes. To understand the excitement of booth attendees one must consider scale, to wit our standard laboratory sized tank is just large enough to sit in and take a de-ionized bath, if you were so inclined (not recommended however). This bathing activity would not be possible with our newest tank.
The Oral presentations were excellent as were the Poster presentation; I especially enjoyed the poster presented by my friends at Siemens (see below).
Our booth was very busy as, in addition to our new API tank, we were also demonstrating our probe testing device, Atlas. Friends and customers from around the world stopped by to say hello and see the Atlas demonstrations. Next year the meeting will be held in Kobe, Japan – we are really looking forward to that, and we hope to see you there as well!
Until next month, Wayne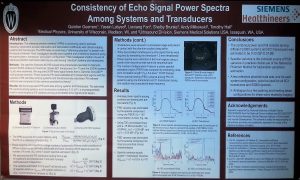 About the Author, G. Wayne Moore:
A 30-year veteran of the diagnostic ultrasound market Wayne has held senior level positions with several major medical equipment manufacturers, including Honeywell Medical Systems and Siemens Medical Solutions. Wayne has been directly involved in the development and commercialization of more than 15 technologically intensive ultrasound systems. He is widely published in diagnostic ultrasound literature, a sought after speaker at medical imaging conferences, has served as an expert witness in multiple ultrasound litigations, and holds more than 16 United States ultrasound related patents. Wayne obtained his MBA from the University of Denver – Daniels College of Business.
He was elected as a Fellow of the American Society of Echocardiography (FASE) in 2009.
Acertara Acoustic Laboratories
Correspondence: Dave Dallaire
1900 South Sunset Street, Suite F, Longmont, CO 80501, USA
Email: ddallaire@acertaralabs.com
www.acertaralabs.com