Twenty Years of Probe Repair
Lessons Learned
G. Wayne Moore, B.Sc., MBA, FASE
9/11/18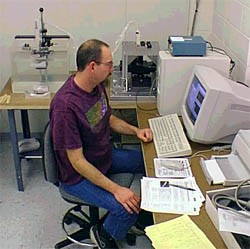 Twenty years ago, the company I founded, Sonora Medical Systems, was focused on creating both the technology and processes necessary to perform high-quality repairs on contemporary electronic array ultrasound probes. This effort led to the development and later the commercialization of the ultrasound probe tester known as FirstCall (see the original one below). Our first Probe Lab Manager and FirstCall de-bugging expert (shown to the right) was a former Acuson Field Service Engineer who lived in Florida, but wanted more than anything to live in Colorado. After interviewing Nick over the phone he was on his way to his new home in Longmont Colorado. Sonora had five full-time employees at the time and was (for a while) the smallest ISO9002 certified medical device repair company on the globe. Yes, back then it was ISO9002. I remember with fondness our first ISO audit – because we weren't doing much at that time and had only a few employees; the audit only took a few hours, not days! The internet was the wild west in those days (remember the Cambodian Midget Fighting League's 42 fighters versus an African lion?), and in spite of ourselves we somehow put together a website, although we weren't really sure what to do with it, what to put on it, or, for that matter, if anyone ever saw it. I also thought we were clever in securing an 800 number of sorts using 888-4-Sonora. Turns out that number was similar to a rent-a-car company in Mexico called Sonora (they had the 800 number) so we occasionally got calls from their customers asking where they should return the rental car. One time as soon as we answered the phone the caller just blurted out, "where are you guys located?" I told him Longmont Colorado, and he replied, "You mean I have to drive to Colorado to drop this car off?", I was tempted to say yes but decided that would probably not end well for me, so I straighten him out and gave him the correct number to call.
Each day I was learning something new about what was involved in creating and developing a business, a lot of it had significant degrees of stress related to it – things like balancing cash flow, dealing with non-value-added government requirements (local and federal), and creating a new market space (i.e., electronic array probe repair) where none had previously existed. Fortunately, I had the foresight to locate our facility within walking distance of the Left Hand Brewing Company, which we visited every Friday afternoon. This activity tended to have a calming effect on the stress level. In fact, it worked so well back then that we have maintained that tradition at Acertara as we are currently located across the street from the Oscar Blues Brewery. As we contemplated the construction and location of our new building this was one of the key variables in the calculus. Speaking of our new building – ground-breaking and construction started this summer and we are looking forward to being in our own building – designed from the ground up to match our workflow honed over twenty years of experience and with enough space to accommodate our growth. We are going to be adding some very special new and innovative products and services, as well as college accredited training in the coming year and we wanted a facility that would match our commitment to our valued customers and partners.  Pouring for the foundation walls has begun!
I have learned a great deal about small business over the past twenty years and I feel a deep sense of loyalty and gratitude to our customers – the greatest teachers I have ever had. I look forward to the next chapter in the story of Acertara informed and guided in many ways by the lessons learned during those early years of Sonora – our history. Our future is unbounded as we continue changing the market we created and as we push the bounds of ultrasound technology. And when those stressful days seem to close in on me I need only walk across the street and re-focus with a tall cold one – this is a lesson I shall not soon forget.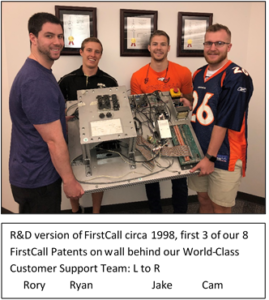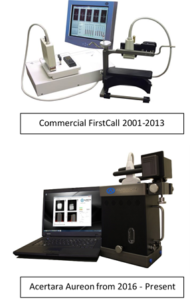 Until next month,
Wayne
About the Author, G. Wayne Moore:
A 30-year veteran of the diagnostic ultrasound market Wayne has held senior level positions with several major medical equipment manufacturers, including Honeywell Medical Systems and Siemens Medical Solutions. Wayne has been directly involved in the development and commercialization of more than 15 technologically intensive ultrasound systems. He is widely published in diagnostic ultrasound literature, a sought after speaker at medical imaging conferences, has served as an expert witness in multiple ultrasound litigations, and holds more than 16 United States ultrasound related patents. Wayne obtained his MBA from the University of Denver – Daniels College of Business.
He was elected as a Fellow of the American Society of Echocardiography (FASE) in 2009.
Acertara Labs
Correspondence: Dave Dallaire
1900 South Sunset Street, Suite F, Longmont, CO 80501, USA
Email: ddallaire@acertaralabs.com
www.acertaralabs.com