The May 15th FDA Report to Congress, and 3rd Party Service
My Prediction
G. Wayne Moore, B.Sc., MBA, FASE
1/09/18
Over the past 12 months I have received emails and phone calls literally every week from Industry folks, 3rd Party Service providers, and HTM professionals regarding my take on what the FDA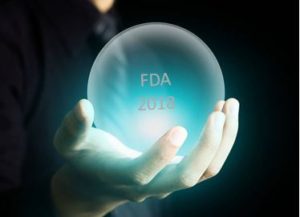 might do concerning the 3rd Party service issue.  So, in honor of the New Year I have gazed into my crystal ball for 2018. I see some things with relative clarity, and others through a glass darkly. For example, I see a definitive movement toward some type of conclusion to the often hotly, and sometimes disingenuously, debated 3rd Party service issue that will be spelled out in the much-anticipated FDA report to Congress scheduled for mid-May. The FDA must, it seems to me, untie the Gordian knot involving either regulating 3rd party servicers or de-regulating OEM servicers – as you cannot have a situation in which only half of the medical device service industry is regulated (OEMs), and the other half (non-OEMs) not regulated and claim, with any credibility, that the ENTIRE medical device servicing market is safe. If one were to take as gospel the highly suspect methodology and equally suspect results of the often cited ECRI "study" that claimed that servicing activities were related to only "…0.005% (96 of 2,115,523 reports) of adverse events reported between 2006 and 2015", then, unless you or your loved one was one of the 96, you might conclude that there are no systemic, statistically relevant adverse-event issues related to post-market servicing. If that is true, and you also believe that patient death or serious injury is the only measure of high-quality and safe servicing, then one could conclude, with a reasonable degree of certainty, that not only should 3rd Party servicers not be regulated by the FDA, but, owing to the same logical conclusion, that the OEMs post-market servicing activities should also not be regulated. Of course, it is utter nonsense to believe that the only metric that should be used to measure safe, high-quality, servicing is how many people you don't kill. To address that gap the MITA (Medical Imaging and Technology Alliance, a division of the National Electrical Manufacturers Association – NEMA) service committee as well as multiple non-OEM stake holders initiated an effort to create an ANSI standard that would address a minimal bar for safe and effective post-market servicing. It is worth noting that some of the loudest critics of this effort were offered a seat at the table for the development of this Standard, but chose instead not to be involved.
Ok, having vented a bit where do we stand? Well, in my multiple meetings with the FDA over the past three years as part of the MITA service committee, I have not been given the impression that the FDA is ready to de-regulate the OEM service obligations under Section 820 of the Quality System Regulations (QSR). I also was left with the impression that the FDA also eyes the ECRI report with some skepticism as the metric to judge quality service from. I also don't believe that the FDA will stay with the status quo.  Therefore, it is my belief that the FDA report to Congress, due in mid-May, will outline some mechanism and timeline related to the regulation of all post-market medical device servicing activities. This is my opinion of course and I will remind everyone reading this that I was wrong 20 years ago when this topic first came up. I thought then that they (the FDA) would have kept their word and acted on the issue. As it turned out instead of acting then the FDA simply kicked the can down the road, and here we are again trying to resolve this issue that has exponentially grown in scale and concern over that time span. My sense is that they will not repeat the mistake made 20 years ago by not acting on this issue.
Until next month,
Wayne
About the Author, G. Wayne Moore:
A 30-year veteran of the diagnostic ultrasound market Wayne has held senior level positions with several major medical equipment manufacturers, including Honeywell Medical Systems and Siemens Medical Solutions. Wayne has been directly involved in the development and commercialization of more than 15 technologically intensive ultrasound systems. He is widely published in diagnostic ultrasound literature, a sought after speaker at medical imaging conferences, has served as an expert witness in multiple ultrasound litigations, and holds more than 16 United States ultrasound related patents. Wayne obtained his MBA from the University of Denver – Daniels College of Business.
He was elected as a Fellow of the American Society of Echocardiography (FASE) in 2009.
Acertara Acoustic Laboratories
Correspondence: Dave Dallaire
1900 South Sunset Street, Suite F, Longmont, CO 80501, USA
Email: ddallaire@acertaralabs.com
www.acertaralabs.com