Remanufacturing versus Service – Update
Wayne Moore
5/10/2022
Remanufacturing can have multiple definitions depending on what type of devices one is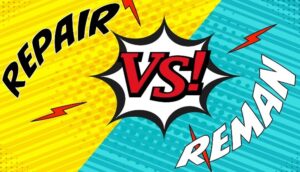 talking about and what industry you are in. For example, remanufacturing an HVAC means something entirely different than remanufacturing a medical device. In the world of medical devices, the United States Food and Drug Administration (FDA) decides what the definition of remanufacturing a medical device is. Simply put, remanufacturing a medical device means this activity "significantly" changes the device's intended use or its safety or its performance (see excerpt from the FDA Guidance Document for Ultrasound Systems and Transducers below – labeled Appendix C). It is the responsibility of the entity performing either a repair or actually remanufacturing a device to objectively determine if their activity is in fact significantly changing the safety, intended use, or performance of the device. This can be accomplished through an engineering risk analysis process, and if necessary, testing and validation against the original FDA cleared OEM device to establish substantial equivalence. Please note how the use of the word "could" highlighted in yellow in the FDA document. "Could" means the entity considering a repair process and/or the materials being used to affect that repair needs to first determine if what they are intending to do would significantly change the items listed above. Please note that an OEM may also be a remanufacturer in this sense and would have to have to perform the same analysis and documented in their Design History Record. The FDA requirement could not be more clear: A service entity is not exempt from the same process as an OEM (see excerpt and flow chart from FDA guidance document below).
FDA Document
Appendix C – non-OEM Replacement Transducers and Remanufactured Transducers
Non-OEM replacement transducers are generally those that are manufactured by a party other than the original equipment manufacturer (OEM) and are intended to replace a transducer originally provided by the system manufacturer. Transducers may be remanufactured by the OEM, or entities other than the OEM. FDA considers transducers that are processed, conditioned, renovated, repackaged, restored, or subjected to any modification that significantly changes its performance or safety specifications, or intended use to be remanufactured. Examples of actions that could be considered remanufacturing are changing the acoustic stack, electrical component, or patient-contact material.
Until next month,

Wayne
P.S.: If you don't know for sure if what you are doing is remanufacturing, schedule a Q-Sub with the FDA, they would love to hear from you