How Can You Be in Two Places at Once When You're Not Anywhere at All?
The FDA 3rd Party Service Report – With Apologies to Firesign Theater
G. Wayne Moore, B.Sc., MBA, FASE
5/8/18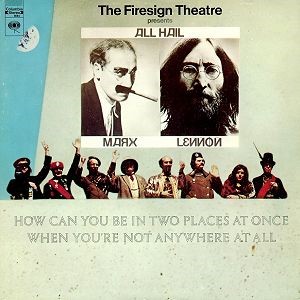 If you have never heard of the comedy troop known as Firesign Theater you owe it to yourself to go to YouTube and listen to this album – often described as the funniest comedy album ever created. In the opening skit a man named Babe buys an awesome state-of-the-art car and is excited to take it for a test drive on the nearby Antelope Freeway. Unfortunately for Babe the distance signs to the Antelope Freeway exit progress per Zeno's paradox (one mile, 1/2 mile, 1/4 mile, etc. ad infinitum) so actually getting there becomes quite impossible, and more than a little annoying.
Nearly twenty years ago the FDA took its first swing at the bat at attempting to develop guidance for the regulation of 3rd party servicing of finished medical devices. After much dialogue, input from multiple stakeholders, and time, the FDA decided to let things stand where they were and address the issue as a separate work product at some ill-defined point in the future – the proverbial Antelope Freeway. Since that time, we have been witness to the application of Zeno's paradox as applied to the regulatory process – always getting closer, but always just out of reach by half. Today we find ourselves once again tantalizing close to the Antelope Freeway exit in the form of the long awaited FDA report to Congress on 3rd Party Servicing due in just a couple of weeks. Will the report state the self-evident truth that you cannot regulate only half the medical device service industry, the OEMs, and let the other half of service providers fly under the radar screen?  Will the FDA finally make it to the Antelope Freeway and regulate everyone who repairs finished medical devices, or will the report, as Firesign Theater described it; "land in two places at once and really not be anywhere at all"? Check back for the answer to this timeless question in Acertara's June newsletter.
Until next month,
Wayne
About the Author, G. Wayne Moore:
A 30-year veteran of the diagnostic ultrasound market Wayne has held senior level positions with several major medical equipment manufacturers, including Honeywell Medical Systems and Siemens Medical Solutions. Wayne has been directly involved in the development and commercialization of more than 15 technologically intensive ultrasound systems. He is widely published in diagnostic ultrasound literature, a sought after speaker at medical imaging conferences, has served as an expert witness in multiple ultrasound litigations, and holds more than 16 United States ultrasound related patents. Wayne obtained his MBA from the University of Denver – Daniels College of Business.
He was elected as a Fellow of the American Society of Echocardiography (FASE) in 2009.
Acertara Labs
Correspondence: Dave Dallaire
1900 South Sunset Street, Suite F, Longmont, CO 80501, USA
Email: ddallaire@acertaralabs.com
www.acertaralabs.com