Help Us Celebrate!
"We are so incredibly happy at Acertara for our Probe Lab Supervisor, ZJ for becoming a United States citizen yesterday. A long and hard path, but so very, very worth it." – G. Wayne Moore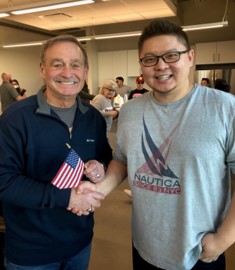 Last month, ZJ completed the process and took the Oath to become a United States Citizen. Check out his journey below!
Tell us about yourself and where you're originally from.
My name is Zoljargal (ZJ) Mandakh, Transducer Lab Supervisor at Acertara Acoustic Labs. I'm originally from Ulaanbaatar, Mongolia.
What made you want to come to the United States?
In 1999, my mother decided to immigrate to the US, leaving her loved ones and her great career (Mongolian railroad headquarters statistic team leader) back in Mongolia, because she believed that this was a better decision for my future. At that time, I was only 12 years old and did not understand much about moving with her from our birth country. It turned out to be very wise decision.
How long have you been in the United States?
I've been here since 2001; there are some years in between that I was living abroad.
How long was the entire citizenship process?
I've applied for the citizenship in August 2019, and it took only 5 months to attend the naturalization ceremony.
Walk us through the citizenship process.
The whole process was straight forward: I've filled out the online application and made the required payment with supporting documents. After a month, they requested me to stop by at an USCIS office for biometrics screening and then the interview took place in December. During the interview they'd ask 10 questions out of 100 about US history and the government, which I aced the first 6 and the USCIS officer stopped the questionnaires. Two weeks after that, it was the ceremony time. 😊
What was your least favorite part about the process?
I was told by relatives that it would take about a year. But in my case, it turned out to be very quick. Since I try to stay busy, the time went very quick in my mind.
What was the most interesting part of the process?
I was surprised how organized, precise and well timed the whole naturalization ceremony was. The USCIS did a great a job there. It's definitely one of the highlights of my life.
If you were to provide someone else with one piece of advice before they start the process, what would it be?
I would advise to be honest about everything.
Congratulations, ZJ!
Acertara Labs
Correspondence: Dave Dallaire
1950 Lefthand Creek Lane , Longmont, CO 80501, USA
Email: ddallaire@acertaralabs.com
www.acertaralabs.com