FDA Commissioner Dr. Scott Gottlieb at MITA Board Meeting
3rd Party Repair and the FDA Report
G. Wayne Moore, B.Sc., MBA, FASE
4/10/18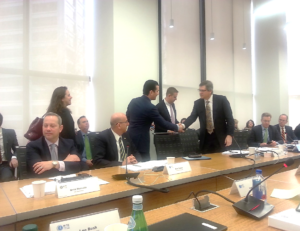 After my participation as invited faculty at AIUM's annual scientific sessions in NYC, I jumped in a cab to catch a flight from Newark to Washington DC for the MITA Board of Directors meeting where Dr. Scott Gottlieb, the FDA Commissioner, was scheduled to address the Board concerning, among other things, the issue of the 3rd Party repair docket and the much anticipated report to Congress scheduled for mid-May. Although, like most government officials, he was hesitant to be specific pointing instead to the release of the report. He did address what I thought were two very key issues and seemed to be the FDA's current thinking; (1) the line between servicing/repair and remanufacturing appears in many cases to have been crossed (see Venn diagram to the right) and those entities that are in fact remanufacturing while calling what they do servicing will come under greater scrutiny going forward, and (2) the Agency believes that FDA regulatory oversight does not necessarily need to be equally applied or "fair" across all players. This one was a little harder to wrap my head around relative to how that might look in actuality; so, like everyone else I'll just need to wait and read the actual language contained within the report to see if there is more clarity around this.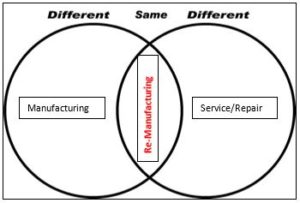 Unlike the current definitions of servicing and repair, the definition for remanufacturing is one that is clearly defined by the FDA: "Any person who processes, conditions, renovates, repackages, restores, or does any other act to a finished medical device that significantly changes the finished device's performance or safety specifications, or intended use, must register, list, and pay fees to the FDA". By way of example Section 807.81 says that a new 510(k) is required for a finished medical device if there is, "A change or modification in the device that could significantly affect the safety or effectiveness of the device, e.g., a significant change or modification in design, material, chemical composition, energy source, or manufacturing process." The FDA has identified, during the course of the 3rd Party Docket, several areas where finished medical device remanufacturing is occurring, and a brighter light will be directed on those entities with higher accountability and traceability.
By the time you read this article the report will be less than 6 weeks away. Like all of you I am very curious what it will say concerning the path forward for FDA regulations. One thing has been clear throughout this process; patient safety must continue to be the core of what everyone in this market is focused on.
Below is a recap of the MITA Ultrasound Section meeting at the AIUM.
Until next month,
Wayne
Section Spotlight
MITA Ultrasound Section at AIUM 2018
On March 23, the MITA Ultrasound Section and Technical Committee met at the American Institute of Ultrasound in Medicine (AIUM) Annual Convention in New York City. Additionally, MITA staff and members attended informational sessions on emerging topics in ultrasound, such as the application of Artificial Intelligence, contrast-enhanced ultrasound, and transducer repair and replacement. The Section is currently preparing comments in response to the Society of Diagnostic Medical Sonography Guidelines for Infection Prevention and Control in Sonography.
About the Author, G. Wayne Moore:
A 30-year veteran of the diagnostic ultrasound market Wayne has held senior level positions with several major medical equipment manufacturers, including Honeywell Medical Systems and Siemens Medical Solutions. Wayne has been directly involved in the development and commercialization of more than 15 technologically intensive ultrasound systems. He is widely published in diagnostic ultrasound literature, a sought after speaker at medical imaging conferences, has served as an expert witness in multiple ultrasound litigations, and holds more than 16 United States ultrasound related patents. Wayne obtained his MBA from the University of Denver – Daniels College of Business.
He was elected as a Fellow of the American Society of Echocardiography (FASE) in 2009.
Acertara Labs
Correspondence: Dave Dallaire
1900 South Sunset Street, Suite F, Longmont, CO 80501, USA
Email: ddallaire@acertaralabs.com
www.acertaralabs.com