Employee Spotlight: Wyatt Moore
Tell us a little about yourself and what is your role at Acertara?
My name is Wyatt, I am a Blue Heeler (Australian Cattle Dog), and I am 11 years old. I am getting grumpier the older I get.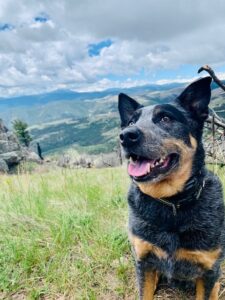 I do not like other dogs, to cuddle, or my arch nemesis- the vacuum. I do like chasing squirrels and rabbits, going in the car, eating (BACON!), sleeping, playing with my toys, opening presents, barking at the doorbell, and my blanket. My role at Acertara is to harass the team for treats (thank you Richard, Lee, Brittany, Callie, and Maddie!), stay well rested, escape my office occasionally and wreak havoc, and to make people smile.
What do you like most about Acertara?
What I like most about Acertara is that I get to see friends, eat treats, and be with my family.
What do you find most challenging at Acertara?
What I find most challenging at Acertara is escaping my office to find my treat buddies. I usually manage to break away once a week or so.
What is the one thing you couldn't live without?
One thing I couldn't live without is that bald guy…they say we are 'co-dependent' or something like that. I just like to know where he is always and I cry when he leaves the room (even though other people are still there with me).
Where would you like to travel to?
I would like to travel to the mountains. I am happiest when I am off my leash and exploring all the sights and smells in the mountains. No lakes or rivers though, I can't swim, but I like to wade in and get a drink!
Top three life highlights?
My top three life highlights are the first time I had bacon, the first time I had steak, and the first time I had celery (I love celery!).