Employee Spotlight: Wilder Iglesias
Tell us a little about yourself and what is your role at Acertara?
My name is Wilder Iglesias. I am a Physicist born in Venezuela with a Ph.D.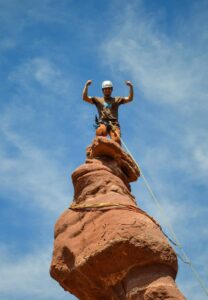 in Chemical Physics specialized in liquid crystals, optics, and material science. Throughout my career, I have had the pleasure of working in mid-to-small business settings where I had the opportunity to wear many hats at the time. Thus, I have had a chance to be exposed to many facets of a company besides research and manufacturing: from ERP/MRP management to fundraising.
At Acertara, I serve as the Lead Development and Production Engineer. My prior experience in a manufacturing environment, as well as materials science research, effectively translate into my current duties at the company. Plus, transitioning from optics to ultrasound has been easy and exciting. At the end of the day, we are dealing with waves whether they are from light or sound.
Although Acertara has been offering certain products to the market before, I am the first employee in the Manufacturing department, which is a pivotal role and natural progression to expand the company's offerings from: repair and acoustic measurements services to a manufacturing enterprise. My goal within the next few years is to grow the manufacturing department, matching or outgrowing the repair and acoustic measurement lab. There is a lot of work to do, but it is exciting work to be done.
What do you like most about Acertara?
The short answer is People. In general, I love that Acertara is a relatively flat organization, everyone is accessible, and we get together without any hierarchical status in mind. This allows for easier collaboration and recognition, regardless of your job title from peers and management. Smart and fun people to spend time with, as well as working together.
If you could switch roles with anyone else at Acertara, whose role would you want? Why?
Maybe with anyone on the software development because they do not seem to work much! Just kidding, I have done a lot of coding in my career, both academically and professionally and I truly enjoy it. You run into the kind of problems that sometimes you can come up with a solution while doing the dishes and rush into a computer to test it. I think it would be fun to do that for a while and get more in-depth knowledge with the AEM services we have and problems we solve.
What kinds of hobbies and interests do you have outside of work?
Too many to fit the gear in my garage and basement. These include but are not limited to rock climbing, snowboarding, beer brewing, drumming and, of course, spending time with my 2-year-old daughter, Mia, and my lovely wife Kendra.
Eating fast, although not so hidden now that I am getting chubby.
As a college student, I participated in a Buffalo Wild Wings eating competition because they were free, and I was a college student. This competition was about eating as many wings as possible in 10 minutes (measured by weight, based on your plates' initial and final state). After that first competition and a few other rounds of free wings, I found myself in the national wing eating competition broadcasted by ESPN, where I qualified to the final round to be beaten by Little John (he was not little). Picture below as proof.
What is your favorite movie and/or book?
The book is The Name of the Rose by Umberto Eco. From Wikipedia: "It is a historical murder mystery set in an Italian monastery in the year 1327, and an intellectual mystery combining semiotics in fiction, biblical analysis, medieval studies, and literary theory". I grew up reading big international novels, from mostly non-Anglo-Saxon writers, and Umberto Eco became my favorite author. This novel was made into a movie and later a series, but they do not capture the essence of the writing of Eco and come up way to short compared to the book, in my opinion. Nowadays, the books I gravitate towards, if any, are historical books regarding important events. I have found one or two self-help books interesting but most of them just iterate the message you find in the back-of-the-book blurb, or even title, over and over.
Where would you like to travel to?
If Hollywood made a movie about your life, who would you like to see cast as you?
If you could drink one beer for the rest of your life, what would it be?
If forced to choose only one beer for the rest of my life, it would have to be a beer that you can drink many of them (not so high in alcohol), not too sweet (this takes out most Belgium styles and dark beers) and thirst-quenching (not too hoppy, taking out IPAs and NEIPAs). Thus, I am forced to choose a Lager (over Ales because of crispness), which is why this style took over the world in the first place. Within the Lager category, I love a modest hoppy character (but not the earthy kind of hops that most pilsners have) with some caramel flavors from the malt. For these, in my opinion the German style of Dortmunders fits the bill. A commercial example in the US that I love can be found on the Dortmunder Gold from Great Lakes Brewery. Nonetheless and not trying to pound my chest, given that I make my own beer and can precisely adjust the recipe to my liking, I would be happy to drink my own Dortmunder lager for the rest of my life.