Employee Spotlight: Levi Moore
Tell us a little about yourself, and what is your role at Acertara?
I work directly with our OEM customers to sell probe repair services as well as ultrasound systems, probes,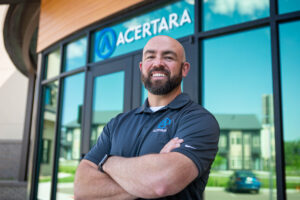 and our test equipment.
I am also responsible for overseeing the operations for accounting, acoustic power testing, engineering, human resources, manufacturing, marketing, quality, and sales. I get to work with vendors, customers, Acertara colleagues and others to design, build, achieve regulatory clearance, and market new devices. Since our new VP of Operations (Dan) joined the company in May, I've been able to work more on our partnerships with OEMs, large hospital groups, and independent service organizations.
What do you like most about Acertara?
We have a great group of highly skilled and intelligent folks who are also easy to work.
What do you find most challenging at Acertara?
Hiring and firing. Personnel issues affect a small percentage of our team, but they are often frustrating. I care about the folks at Acertara, and I want to see them succeed: sometimes that just doesn't work out here.
What kinds of hobbies and interests do you have outside of work?
I enjoy fly fishing and spending time with my wife, Katie. I'm not built to be a runner, but I like the discipline of pushing myself throughout the week. I spend a significant amount of time during the week studying scripture.
What is your favorite movie and/or book?
I don't think I could pick just one. I read the Bible every day. I also really enjoy books that teach me something new – Peak (Ericson), The Five Dysfunctions of a Team (Lencioni), and David and Goliath (Gladwell) all come to mind. The Pursuit of God (Tozer) is a classic that I highly recommend.
Where would you like to travel to?
In the "somewhere new" category I would like to see Thailand. Katie and I talk about going back to Kobe for another delicious meal. I love travelling and getting to learn about new cultures and their food! The WW2 Museum in Tokyo was particularly interesting and I love to go to the grocery store in every country I visit.