Employee Spotlight: Lee Diede
Tell us a little about yourself and what is your role at Acertara?
I am an Electrical Engineer here at Acertara. I am your go-to guy for troubleshooting problems and any questions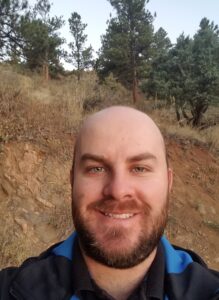 you might have about each of our products. If I don't know the answer, I'll figure it out and we will both learn something. I also get to expand our ATLAS testing capabilities by designing new adapters and creating new probe parameter files for the lab. I love to be outside exploring the mountains. I grew up here in Longmont soaking up as much of the mountains as time would allow. Now I live in the mountains with my wife, two GSD's and our backyard is the great outdoors.
What do you like most about Acertara?
I like the people who make up the team we call Acertara the most. I am one of those people who enjoys coming to work every day. I get to interact with everyone from engineering to the probe lab and sales, they make it so work is enjoyable and there is always something new to learn.
If you could switch roles with anyone else at Acertara, whose role would you want? Why?
I would switch roles with Levi's dog Wyatt. He shows up to work like 2-3 days a week, visits everyone for treats in the morning and then gets to nap in a comfy bed for a few hours. Gets up around lunch time for more treats and then an afternoon nap. Hard to beat that.
What kinds of hobbies and interests do you have outside of work?
Outside of work tends to be a wide variety of things. I spend A LOT of time outside hiking and looking for new trails and animals with my wife. During my time outdoors I dabble in wildlife photography and enjoy camping, fishing, hunting, and hockey. Those photos are starting to decorate more of our home and my computer's desktop. When I'm inside I tend to be building something or working on little electronics projects that light up or do something cool. I use watching movies or TV as background noise to plan my next project or adventure.
What is your favorite movie and/or book?
I'm a big Lord of the Rings nerd for sure. I can read or watch all of those at any time.
Where would you like to travel to?
Egypt, Finland, North & South Pole, New Zealand.