Employee Spotlight: Kevin Cain
Tell us a little about yourself and what is your role at Acertara?
My name is Kevin; I am an Air Force Veteran with a Bachelor's Degree in Information Technology. I currently work in the Engineering wing as a Full Stack Software Developer, mainly working on our web-based applications and AWS Cloud configurations and optimization. Being a self-taught developer, I like to learn as much as possible, expanding my knowledge and expertise every day. I have been blessed with this role because there are no limitations when it comes to learning new tech. I absolutely love what I do and couldn't be happier with the entire Acertara team.
What do you like most about Acertara?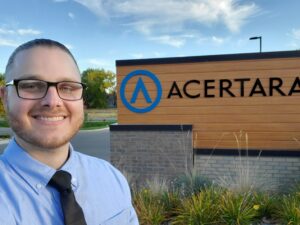 Acertara is unlike any company I have worked for before. Everyone here has a great attitude, which creates an awesome work environment. Being in the Engineering wing, it is constant enthusiasm and creativity.
If you could switch roles with anyone else at Acertara, whose role would you want? Why?
I would honestly not want to switch jobs with anyone here. I think everyone is great at their job, and each person plays a role in the success of Acertara. That being said, I always want to keep learning more, perfecting my craft, and progressing my career as much as possible so one day I can help others like my team has helped me.
What kinds of hobbies and interests do you have outside of work?
I like to cook, drink a good seltzer or IPA, watch UFC fights and do anything outdoors. I used to really be into dirt bike riding, which I would like to get back into.
Where would you like to travel to?
I would like to travel the entire world. South America, Europe, Asia, anywhere to be honest. I think exploring and learning about other cultures is a huge part of life, that many people never get to experience.
If you could drink one beer for the rest of your life, what would it be?
Juicy Freak IPA