Business Lessons from Super Bowl LIV
G. Wayne Moore, B.Sc., MBA, FASE
2/11 /2020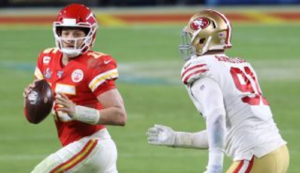 I admit to being somewhat of a football junkie. Because of this particular character flaw, I looked forward to watching last-week's match-up between the San Francisco 49ers and the Kansas City Chiefs with great zeal, anticipation, and a plate full of wings. As with many professional athletic events, I have often found multiple universal lessons revealed from the playing of the game that transcend mere athletic ability. These lessons tend to more rapidly unfold and become more pronounced as the game progresses and the dynamics change (aka the score). Many of these lessons also tend to apply to business situations as well. I jotted a few gems down during the game and I humbly submit them for your consideration:
When an opportunity presents, take it – With 1:53 left in the first half, and the score tied 10-10, the 49ers stopped the Chiefs' offense on third-and-14. And then, coach Kyle Shanahan made, in my view, a ridiculous decision. The 49ers still had all three of their timeouts left, but Shanahan opted not to use one. The clock went from 1:47 to 59 seconds left as the Chiefs drained 48 seconds and then punted the ball into the end zone. As in business, you are there to win the game, not to simply try and not lose it.
The game's not over until it is over – The Chief's understood that just because the 49ers held a 20-10 lead at the end of the 3rd Quarter it certainly wasn't the time to roll over and pack it in. Same in business, stay focused on your game plan, go with what got you there, then execute – you still have a Quarter to play.
The team that won't be beat can't be beat – demonstrated by the 31-20 final score in favor of the Chiefs. They did not score 21 points all at once, but they were determined to win – one TD at a time. Business lesson – It doesn't matter what the current score is, what matters is making the next play successful, and then the next, both on offense and defense.
At the next Super Bowl, I look forward to watching the Denver Broncos destroy the 49ers.
Wayne
About the Author, G. Wayne Moore:
A 30-year veteran of the diagnostic ultrasound market Wayne has held senior level positions with several major medical equipment manufacturers, including Honeywell Medical Systems and Siemens Medical Solutions. Wayne has been directly involved in the development and commercialization of more than 15 technologically intensive ultrasound systems. He is widely published in diagnostic ultrasound literature, a sought after speaker at medical imaging conferences, has served as an expert witness in multiple ultrasound litigations, and holds more than 16 United States ultrasound related patents. Wayne obtained his MBA from the University of Denver – Daniels College of Business.
He was elected as a Fellow of the American Society of Echocardiography (FASE) in 2009.
Acertara Labs
Correspondence: Dave Dallaire
1950 Lefthand Creek Lane , Longmont, CO 80501, USA
Email: ddallaire@acertaralabs.com
www.acertaralabs.com