Acertara Receives ISO/IEC 17025:2017 Certificate of Accreditation
LONGMONT, CO June 3, 2019. Acertara Acoustic Laboratories, an independent ISO/IEC 17025:2017 accredited medical ultrasound acoustic measurement, testing, and calibration laboratory, and ISO13485:2016 certified probe repair and new product development facility announces it has received the latest version of accreditation from the ANSI National Accreditation Board for ISO/IEC 17025:2017 for ultrasound acoustic testing and calibration.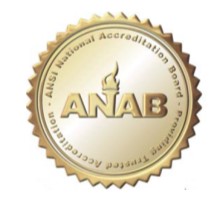 Commenting on achieving accreditation to the latest international standard; ISO/IEC 17025:2017, G. Wayne Moore, CEO of Acertara, said: "The transition from the previous standard, ISO 17025:2005, to the new standard, 17025:2017, was very challenging as the depth of additional requirements with the new standard was extensive; in fact Acertara is now one of only three acoustic laboratories in the world with this scope of accreditation and the only one in the United States". "Our lab provides acoustic testing services for original equipment manufacturers on a world-wide basis in support of their FDA 510(k) ultrasound submissions, and for EU requirements to obtain CE labeling. Our work in this area also supports our probe repair service through verification and validation of materials and components used in the repair process." Among other elements for accreditation, ISO 17025:2017 requires objective evidence that the laboratory demonstrates technical competence for a defined scope and the operation of a laboratory quality management system. Part of evidence-based proficiency testing comes through inter-laboratory comparisons using specified technical parameters to ensure testing accuracy among peer-laboratories.
About Acertara:
Acertara Acoustic Laboratories, located in Longmont, Colorado is an independent ISO/IEC 17025:2017 accredited advanced acoustic measurement, testing, and calibration facility providing diagnostic and therapeutic acoustic power testing and measurement services to ultrasound OEMs, researchers, and regulatory bodies around the world. Acertara also manufactures and sells a complete line of acoustic power testing products; including its industry standard Acoustic Power Lab Suite and AMS software. Acertara designs and manufactures probe testing devices such as Aureon™, AmpSafe, and ATLAS™. Acertara offers contract-based advanced ultrasound research and product development and engineering design services. Acertara is also ISO13485:2016 certified for probe repair. Additional information for Acertara is available on its website at www.acertaralabs.com, or contact sales@acertaralabs.com. Acertara Acoustic Laboratories LLC is a Veteran owned and operated business.
Acertara Acoustic Laboratories
1950 Lefthand Creek Lane
Longmont, CO 80501
303.834.8413
Acertara Contact: Dave Dallaire
ddallaire@acertaralabs.com