9/11 – One Man's Journey
G. Wayne Moore
9/13/16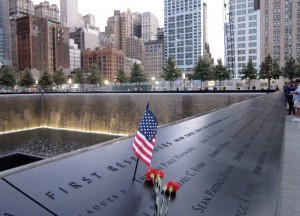 September 11th, 2001. 15 years ago but as fresh in my memory today as it was then. I'm sure we all remember where we were that day. The week prior to 9/11, I had flown to Austria to visit a probe test equipment customer of ours; Kretz Ultrasound (purchased by GE in August 2001). The Austrian landscape and mountain vistas are beautiful this time of the year and remind me of those found in my favorite state – Colorado (full disclosure – I live in Colorado so I am biased). I rented a car in Salzburg and drove to the small village of Ziph where the Kretz factory was located. After my meetings with the Kretz engineers I was to fly back to attend another business meeting in New York City. My flight back was supposed to go from Salzburg to Frankfort, Germany, and then directly to JFK in New York. Arriving in Frankfort I got off the plane and started the scramble (and I mean scramble as it was a tight connection) to get to the next gate where the New York bound Lufthansa flight to JFK was to leave from. During my sprint to the gate I noticed a huge crowd gathered around televisions located in an open bar area of the concourse. Curiosity got to me so I stopped to see what the interest was – images of a commercial jet liner flying into the World Trade Center buildings. I was stunned, and like everyone else confused.
I again ran for my gate only to see the announcement – Flight XXX to JFK, CANCELLED. The gate attendant informed the passengers gathered that all flights to the United States had been cancelled. My immediate thought was to see if I could get a flight to Canada – by the time I got to the Air Canada ticket counter I was informed that all flights to North America had been cancelled. America was under attack. I served four years in the United States Marine Corps and my first instinct was: "If we are under attack I need to get home and do what I can; I don't want to be stuck in Frankfort watching events unfold on the television". I decided that I would try and get a flight to London, if I had to wait this out somewhere I would rather it be with America's closest ally – the UK. I was able to get a flight to London's Heathrow airport and secure a room at a hotel near the airport.
When I checked in to the hotel I was met by the nicest most concerned hotel staff I have ever met; seems I was not the only American in the hotel. The manager of the hotel was there and came out to speak with me and to welcome me. They promised to help me with arrangements as soon as airspace in North America opened up so I would be booked on a flight back to Denver. I never felt so appreciative. They told me that as soon as they heard any updates they would ring the room – no matter what the time. I called home to let my wife and kids know where I was and that I was ok. They did not have any additional news for me as to what was going on, or how long it might be before flights to the US would be resumed – turned out that it would be three more days.
I watched CNN almost non-stop for three days (the hotel did not have Fox News or I would have watched that instead). Images of the First Responders at the World Trade Center and surrounding area stirred my soul – these men and women were true heroes. Many of them laid down their lives during the rescue attempts – no gratitude we showed them would ever be enough.
At last the phone in my room began to ring; "Mr. Moore, we have good news; limited flights will be allowed into US airspace and we have you on a flight to Denver tomorrow morning via Minneapolis." I had people ask me later if I was worried being on a flight so soon after the attack. Truthfully, I didn't even think about the risk…I was going home. I cannot begin to describe to you how I felt when I first saw those Rocky Mountains come into view from my window seat in the plane. I will confess when the plane touched down on the runway I had at least two tears in my eyes…I was home.
It has been 15 years since the attack on America. This year my wife and I visited the 9/11 memorial in New York. I will always be grateful for the hotel staff in London, who went way more than the extra mile for me. I will always hold in the highest esteem those brave First Responders who paid the ultimate price for their heroic efforts – greater love has no man than this; that he will lay down his life for his brother. I felt something while I was stuck in that hotel room in London that stays with me to this day; that no matter what her flaws, no matter what her shortcomings, there is no place like the United States of America.
About the Author, G. Wayne Moore:
A 30-year veteran of the diagnostic ultrasound market Wayne has held senior level positions with several major medical equipment manufacturers, including Honeywell Medical Systems and Siemens Medical Solutions. Wayne has been directly involved in the development and commercialization of more than 15 technologically intensive ultrasound systems. He is widely published in diagnostic ultrasound literature, a sought after speaker at medical imaging conferences, has served as an expert witness in multiple ultrasound litigations, and holds more than 16 United States ultrasound related patents. Wayne obtained his MBA from the University of Denver – Daniels College of Business.
He was elected as a Fellow of the American Society of Echocardiography (FASE) in 2009.
Acertara Acoustic Laboratories
Correspondence: Dave Dallaire
1900 South Sunset Street, Suite F, Longmont, CO 80501, USA
www.acertaralabs.com